Welcome
We are proud to present our debut fall issue. Here we will bring you news on upcoming events & shows along with our new arrivals and specials.
With our newsletters you will not only find exciting information in the vintage fashion world but, you will also see what is new in our line of vintage fashions for both men and women.
With thoughts in the world of going GREEN the fashion world is looking more towards VINTAGE! We as vintage enthusiasts find this very exciting. With so many wonderful designs of the past being worn today we can mix our current looks with past fashions and create new and exciting looks with vintage fabrics and clothing.
With these thoughts in mind think of what to wear for the upcoming holidays. Think VINTAGE! There are so many wonderful designs and looks to choose from that will not only make you feel glamorous and amazing but, you and you alone will be wearing that unique and one-of-a-kind fabulous outfit. Just imagine, you are invited to that special party.....you walk in wearing that unique and breathtaking outfit knowing that no one else will have your amazing frock. So...there you are looking wonderful and not like that other individual who walks in to find that SOMEONE ALSO SHOPPED AT THE SAME DEPARTMENT STORE AND PICKED OUT THE SAME OUTFIT!! UGH!! Don't let this become your reality. Be Smart - Be Creative - Shop Vintage!!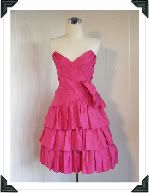 ____________________

Events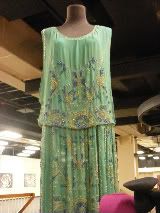 For those of you who LOVE to browse my website you probably know that we participated in the Queen Mary Art Deco Festival this past Labor Day weekend. The ship was just aglow with Art Deco enthusiasts who graced the ship in their wonderful 1920's and 30's attire. Not a hat, hair style or bow tie was out of place. The ship seemed to come alive with each and every event that the festival had to offer. From the Friday night Pajama and Cocktail party to the Grand Art Deco Ball, you truly felt that the ship had gone back in time to the wonderful era of Deco fashions and music.
We were very proud to be one of the vendors that were invited to participate in the Art Deco Bazaar and Market Place. We offered those who attended the festival a 20 x 40+ booth filled with beautiful 1930's chiffon dresses, hats, gloves, shoes and of course an array of men's
clothing and accessories to complete their perfect transformation back to a time were life was easy and less complicated.
For those of you who have not attended this fabulous function, you must put this event on your calendar for next year. Trust me....you will not be disappointed. It is truly an event to remember.
For more information please visit either the Art Deco Societies website at www.adsla.com or call the Queen Mary at 562-435-3511
Last but not least, here are some pics of our booth at the Queen Mary. Enjoy and hope to see you there next year!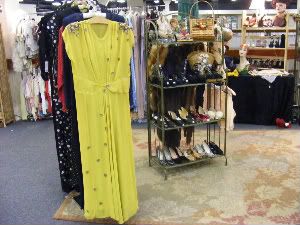 ____________________

Happenings!

See Lauren Rennells at the Upcoming
Vintage Fashion Expo in Oct.
Coming in Oct. the Vintage Fashion Expo will be welcoming back one of the Vintage Fashion Worlds beloved hairstylist, Lauren Rennells. With her first book being a great success on how to create fabulous hairstyles of the past, she is back with her second book on more amazing ways to create those glamorous hair styles and makeup that will transform you into that real-gone gal of yesteryear.
Here she will be selling and signing her latest book, "Vintage Hairstyling: Retro Styles with Step by Step Techniques" and will be demonstrating how you can create some of those great styles offered in her book.
Hours will be Sat. & Sun. 1:00pm - 4:00pm
For more info. go to Lauren Rennells website at www.vintagehairstyling.com
____________________

Calendar of Events for Fall 2009
Sept 19 - 20

Vintage Fashion Expo held in San Francisco at the Concourse Exhibition Center.
For more info. Visit www.vintageexpo.com
Oct. 17 - 18
Vintage Fashion Expo held in Santa Monica at the Santa Monica Civic Auditorium, Santa Monica Ca.
For More info visit www.vintageexpo.com
____________________
Latest Arrivals
We here at Vintage Blue Moon have been very busy working to bring you some great one-of-a-kind FABULOUS vintage items that will truly knock your stockings off! Just take a look at what you can find on our website that will make your feet just want to hit the dance floor for that next rumba or tango!
____________________
Last But Not Least
Don't forget to bring your coupon to our next show for $10.00 off any purchase of $100.00 or more!
Click on coupon image to print.
____________________

Thanks for subscribing and remember, when you shop with Vintage Blue Moon you are shopping...."For The Find Of A Lifetime"